Pricipal página
Tiempo en Budapest :
valores actuales, predicción


Recommended restaurants in Budapest near us

Kárpátia étterem

Travel information, time tables

MAV
Hungarian State Railways

Timetable in Budapest's airport Ferihegy arrival-departure
Volanbusz

Rent a car services in Budapest

EURO CAR RENTAL
Another reliable one :
Fox Autorent

Recommended programms in Budapest
Tropicarium,Oceanarium in Budapest SW
Aquapark in Mogyorod NE of Budapest



Sziget festival 2017 : del 11 al 17 de agosto 2018 en Budapest - Isla de Óbuda
Papp László Budapest Sportaréna

Concorses en Budapest


Gran Premio d'Ungheria di Formula Uno Hungaroring Mogyorod,
29.07.-31.08.2018.
23° Budapest Semi Maratona - 04. ottobre 2013.
Spar Budapest Internazionale Maratona - ottobre 2018
Nostre albergho aspetta corridori con sconti speciale.
Recommended links :
you find similiar apartment-hotels, apartments,minihotels, hotels
Balaton

Recommended links :
you find similiar apartment-hotels, apartments,minihotels, hotels
Balaton

City Centre Apartments on other portals :

in Europe

in Austria
Vienna
Comfortable City Apartments & Vacation Rental for your vacation or business trip to Vienna.




La Plaza de los Héroes en parque de la ciudad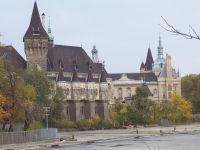 castello de Vajdahunyad


























Museo de agricultura de Hungría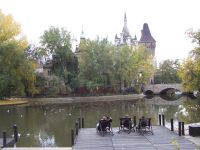 Parque de la ciudad un estanque rodeado por paseos y árboles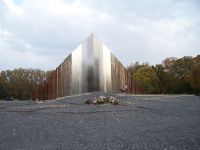 Monmonumento del levantamiento 1956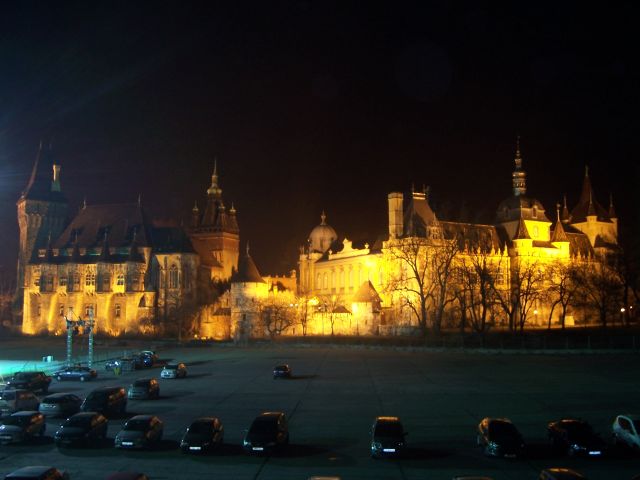 castillo de Vajdahunyad de noche.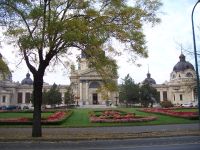 Balneario Széchenyi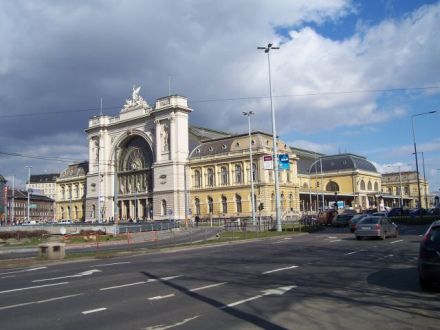 railway/railroad station Keleti pu.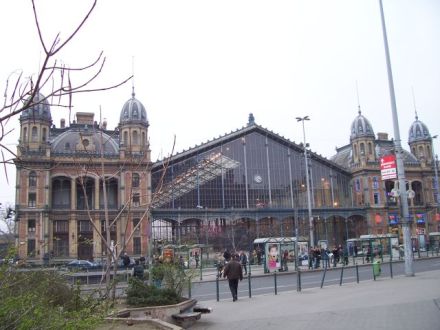 railway/railroad station Nyugati pu.





































































































































Utile informacion, tiempo en Budapest , links para cliente del Apartamenthotel
City Centre Apartments Budapest
Dinero, bancos, oficinas de cambio
Tiendas de alimentación, Farmacias
Lavanderías
Llamar por teléfono en Hungría
Los días festivos
¿Cómo llegar a los principales lugares de interés de Budapest
Baños termales, balnearios
Las cuevas en las colinas de Buda
transporte público
Discos

Intenet cafés cercanos Szentkiralyi utca 5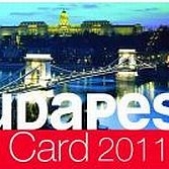 "Una ciudad entera en su bolsillo" - es el lema de este producto introducido por la Oficina de Turismo de Budapest en el año 1997, la Tarjeta Budapest, que ofrece más de cien tipos de descuentos:
viajes ilimitados en cualquier medio de transporte urbano y en el ferrocarril infantil
entrada gratuita o a precio rebajado en 60 museos y otros monumentos de la capital
visitas panorámicas de la ciudad en autobús a mitad de precio
descuentos en entradas a varios programas culturales y folklóricos
descuentos en restaurantes y baños termales
descuentos en el precio de alquiler de coches, en vuelos panorámicos de la ciudad, en instalaciones deportivas y otros lugares
seguro de viaje contra accidentes
La Tarjeta viene con
un folleto de cien páginas
en idiomas -espanol, húngaro, inglés, alemán, italiano -, que da información sobre el uso de la tarjeta y de los servicios que ofrece (indicando con fotos, dirección, horario de apertura, precios de entrada y los descuentos).
Validez:
48 ó 72 horas
Precio en 2011:
para 48 horas: 6,300 Ft.
para 72 horas: 7500 Ft. La Tarjeta es valida para un adulto y un niño acompañante de 14 años como máximo. Se vende: en budapest establecimientos, frecuentadas, metro oficinas, tourinform hoteles, agencias, el aeropuert, extranjero,los grandes turoperadores, algunas, malé.
Al pinchar en el texto abajo se puede recibir información completa sobre 36 tarjetas de ciudades europeas.
Where to eat out in the neighbourhood
of VIII.Szentkirályi utca 5.?
Self service restaurants, breakfast and lunch
Chinese fast food just opposite the house a bit to the right at our street Szentkirályi utca # 2.
Burger King On Múzeum kőrút . Walk left from your house turn on the corner left at Astoria crossing also left. Opposite the Hotel Astoria.Open:Mo-Fr 8-23,Sat 9-23,Sun 10-23 hours
McDonald's you find just the other side of the main road beside hotel Astoria.. Open : daily from 7-24.
Restaurant
with gipsy music
: there are hundred restaurants in this area. Some of them have also gipsy music.We recommend you the Kárpátia Étterem : V. Ferenciek tere 8. open daily from 11 to 23 hours. Pls.walk left from the house turn at Rákóczi út to the left and keep on walking to the church before the white suspension bridge.Turn at the Franciscan church to the left.The restaurant is 50 m further. Also other traditional good restaurants: Százéves Étterem/100 Éves Étterem/ at the corner of Pesti Barnabás and Galamb utca open daily from 11 to 24 hours. Closer to the bridge on the other side of the main road in Váci utca to the right and at the first lane to the left.

NIKA Restaurant , Kossuth utca
Kispipa étterem VII. Akácfa utca 38. open:12-01 (popular, reasonably priced with extensive menu
Leave your house to the left at the corner to the right .Walk to Budapest Bank on the opposite side and turn in Akácfa utca. It is about 15 min.walk.

For vegetarians:VEGETARIUM V.ker. Cukor utca 3. In a back street left across from Kárpátia Étterem.
The Cukor utca(lane) leads into Károlyi utca in 45 degree angle.

Becketts - Budapest's Only Authentic Irish Bar!
1055 Budapest, Bajcsy Zsilinszky út 72. Phone: 0036-1-311-1035. Bar open late 7 nights a week. Midweek: 12 noon - 1 am , Weekends: 12 noon -2 am. Food served all day.
Live Music - Party Nights
Walk left from the house, turn to the let at the main road Rakoczi ut. Take metro 2 from Astoria to Kossuth ter (two stops). Walk to the middle of the square, opposite the Parliament building. Turn to the right. It is Alkotmany utca. At the other end you find the bar.
You can also walk from Astoria station.Turn to the right a Rakoczi ut. Walk along Karoly korut and in its prolongation Bajcsy Zsilinszky út. It takes 15 min., while you pass by the magnificent St. Stephen Basilica.

Mákos Guba Kajálda és Kávézó
I.ker. Krisztina krt.65-67. A Mészáros és az Alagút utca kereszteződésében.
Rendes és kis adagok, egyszerű, népszerű ételek, gyors kiszolgálás, izletes ételek és nem utolsó sorban olcsó árak.
Nyita: H-P 11-21, Sz.: 11-16. vasárnap zárva.
Ha Budán a várban jár, jöjjön le a 16-os busszal vagy sétáljon le a Horváth-kertig.

Banks, food stores,
Money
The currency in Hungary is the forint(HUF, Ft)
Banks are open from Mo to Fr. from 8 am. to 4 pm.
Major credit cards are accepted at the most (more expensive) places .A sticker indicates acceptance at entrance or cash desk. Cash withdrawal is possible in several banks in an enclosed area even at night.
In our neighbourhood : in OTP, Erste Bank, Volksbank.
Paying by cheque is not usual , though the banks accept them.
There are many banks and exchange offices in this area.Pls. compare,because the rates are different !

OTP Bank VII.Károly kőrút 1-3 . Open :Mo 7.45-18.00 from Tue to Fr:7.45-16.00.
Walk left from your house,turn at the main road Rákóczi ut to the left.Cross the main road at the next pedestrian crossing. At Astoria crossing turn to the right. Its ATM is 100 m further from the entrance.
Other banks: You just keep on walking from your street and 100 m after the post office at Puskin utca is Volksbank with ATM. When you keep on walking in the glass office building there are more banks and ATMs. Open from : Mo-Fr 8.30-17.30.Keep on walking to the glass office building passing by . IC Bank open Mo-Thu:8.30-15.00Fr:8.30-14.00.Turn to the left you get to Daewoo bank open Mo-Thu 8.30-16.30 Fr:8.30-15.30 (best rates sometimes here!)
Exchange offices : Rákóczi út 4 and 6 .Pls. walk in direction of Astoria metro station, but on the opposite side of the main road..
ore exchange offices you can find on Múzeum kőrút .Start to walk from Hotel Astoria in direction to Kálvin tér.Many book stores(also second hand) you will find. Among them there are 2-3 offices.
American Express is on the corner of Bécsi and Deák F.u.Walk left from your house,turn at the main road Rákóczi ut to the left.Keep on walking to Petőfi Sándor utca, turn to the right. Open daily from 9-18.30 .The best rates you will not find there.

Food stores SPAR supermarket It is on the corner of your street and the main road, left from your house. Open from Mo to Fr:6.30-20 Sat: 6.30-17, Sun from 8-12 hours.It is a big one.

When you leave your house to the right, you get to
Coop Élelmiszer ABC on the corner of Bródy Sándor utca.Open from Mo to Fr: 7.00-20, Sat: 7-15 hours Su 8-12. It has recently been nicely renovated.
Central Market Open from Mo 6.00 am to 5.00 pm , Tue-Fri : 6.00 am. to 6.00 pm , Sat: 6.00 am. to 2.00 pm ,Sun closed.
Walk from the house to the right, second corner to the right along Hungarian Radio Station , the National Museum on the other side the former Parlament Building/ now Italian Libary and Cultural Centre / and other palaces to Museum Boulevard.
There turn to the left and keep on walking on the main road , which is called later Vámház krt. It is 12-15 min. walk.
However you can also take a tram from Astoria 2 stops, if will not have this time for a lovely walk along historical buildings .

Big hypermarkets /shopping malls
Tesco 24 hours open. Closed only on public holidays.
Tesco Fogarasi út at the address Budapest XIV.Pillangó u. 15. Near the metro 2 /red / line station Pillangó utca.
Take metro 2 for example from Astoria in direction Örs vezér tere 4 stops or from Blaha Lujza tér 3 stops /section ticket is valid for 3 stops/.
storia is right from the building 3 houses to th main road Rákóczi út, turn to the left and at the second corner.
Blaha Lujza tér is on the main road Rákóczi út to the right after the hospital Szent Rókus at the square with the parking lot.
From metro stop Pillangó utca cross the broad main road and walk straight between the blocks of flats to the other main road Fogarasi út.
At night take the night bus 908 from Vas utca starting at 23.49, 0.11, 0.49, 1.49, 2.49, 3.49, 4.49 every night.
Tesco Váci út at the address XIII. ker. Gács utca 3. Take metro 3 /blue line from Kálvin tér or Ferenciek tere to Gyöngyösi út.
At night please take the night bus 904 from Astoria
at following departure times 23.34 0.04 0.34 1.04 1.34 2.04 2.34 3.04 3.34 4.04 4.34.

Largest shopping mall in East-Central Europe West End City Center.
Take tram 4 or 6 from Blaha Lujza tér to Nyugati tér (train station).
Turn on Erzsébet kőrút at Nyugati pu. (Western Train Station) to the right following the overpass ( fly-over) .After the car park ( bus terminal ) on the right side you find it on XIII.Váci út.
Web site is in Hungarian with a map/térkép etc.

Pharmacy Shop Uránia:VIII. Rákóczi út 23. open from Mo-Fr:8-19 Sat: 8-13 hours
Pls. walk from the house to the left atthe main road to the right. At no.39 is another one 300 m further with longer opening.
Pharmacy shop with 24 hours emergency service: VI. Teréz kőrút 41.
Pls. walk left from the house,on Rákóczi út to the right. At Blaha Lujza tér take tram 4 or 6 to Oktogon. 200 m walk ahead.

Laundry self service and also dry cleaning in 6 hours. V.Vármegye utca 5.
pls. walk left from your house turn to the left on Rákóczi út. Walk to Városház utca fourth street on the right side.
Open :from Mo to Fr 7-19 , Sat,Sun closed. Prices from 2005.: 7 kg washing+drying 3000 Ft,10kg: 5000 Ft, selfservice washing 1700 Ft.
Dry cleaning in 6 hours. Price example : trousers 1000 Ft, coat 1750-1950 Ft.

Tichy clean drying Open Mo-Fr 9-18
Walk right from your house turn at the second lane to the right.It is only 2-3 min. walk from us ! Bródy Sándor utca 22.You can agree on time when the job will be done (2-6 hours).1000-1300 HUF for trousers , 1300-2000 for jackets,1500-2300 for (rain) coats .Prices from Jan. 2004.

Phoning in Hungary
International phone prefix : 00
Country cod for Hungary : 36
Cod for inland long distance calls: 06+area prefix (see phone book) Budapest is 1.
To call Budapest number from outside of the city dial 06 wait for the tone then 1 and the 7 digits.
Three mobile providers operate in Hungary : T-Mobil, Pannon and Vodafone.
To call a Hungarian mobile number from your own phone , dial +36, then then the Hungarian mobile provider's prefix and the phone number.

Public holidays
Apart from New Year's Day, Easter Monday, Whit Monday, Christmas and Boxing Day there are public holidays on:
15 March to mark the 1848 revolution and freedom movement against Austrian rule, with official events and obviously demonstrations aginst the current government..
20 August to mark the foundation of the Hungarian State, with spectacular fireworks on Gellert Hill.
23 October to mark the 1956 uprising against the communist regime and the Soviet rule.
1 November All Saint Day.
When public holiday fall on a Thursday or Tuesday, the day between the bank holiday and the weekend is also turned into a holiday making a long weekend.

How to get to the major sights of Budapest

1.Buda castle district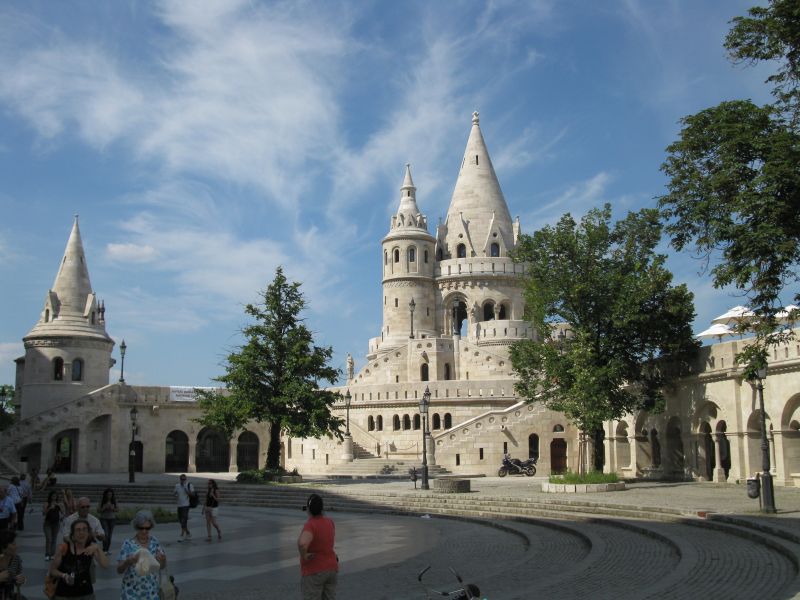 ( the oldest part of the capital: former Royal Palace,Matthias church /coronation church of the Hungarian kings /, Fishermen's Bastion with the world famous , marvellous view over the river and the city, Alexander palace /seat of the Hungarian President
There are many museums, National Gallery , restaurants, cafés in this area.
First possibility:you can walk to the left from the house.You get to the main road Rákóczi út .
Turn to the left pass by the Hotel Astoria down to the pedestrian walk Váci utca. Turn there to the right, walk along Váci utca passing by the Café Gerbeaud then along Dorottya utca.You get to Hotel Sofitel Atrium.. Then walk over the Chain bridge (Lánchid ) to Buda. Then you can take : funicular/cable car "sikló" /up to the former Royal Palace.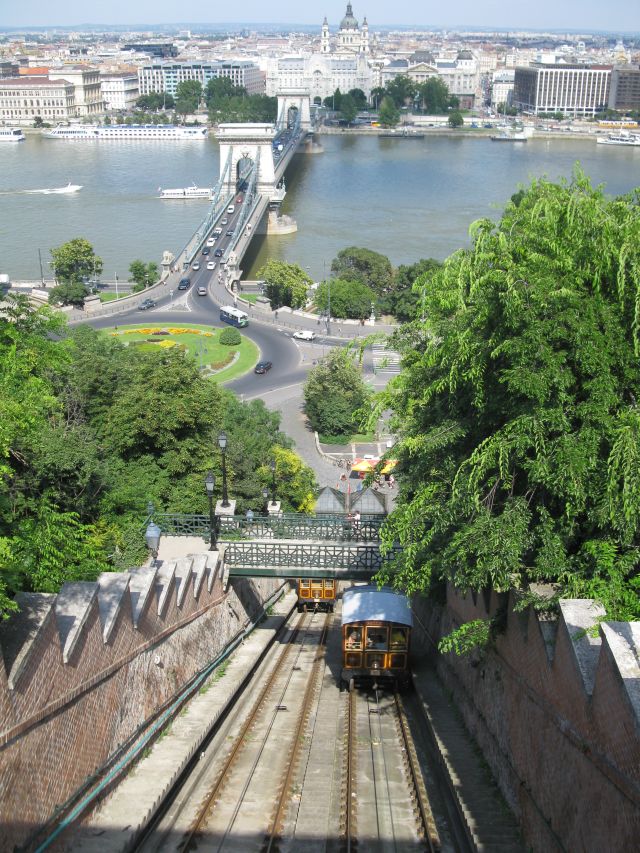 Do not miss the fancy view of this bridge at night !
Second possibility : you can take the bus 16 from Erzsébet tér.Jus walk left from the house to the main road Rákóczi út,turn to the left .Later cross the Rákóczi út walk to Károly kõrút. Turn to the right along Károly kõrút.You will get to a large square(Deák tér).This bus no.16 takes you to Disz tér/Parade square/ to the middle ofthe castle district. Third possibility: take metro 2 from Astoria. You can walk to the left from the house .You get to the main road Rákóczi út .Turn to the left about 250 m at the tall glass office building is the walk-under to the metro. Metro 2 red line takes you to Kossuth tér 2.stop Parliament building 3. stop Batthyány tér, fourth stop Moszkva tér.from there you can either walk along Várfok utca .It is a steep lane leading up to the Váci kapu, gate of Vác. Or you can take a small bus with the sign of a bastion. This bus runs only up to the castle and takes a round tour there and returns to Moszkva tér.The bus stop is opposite the exit of the metro but on a higher level.

2.Pedestrian zone /local people call it Váci utca,because this is the name of the longest lane of it. You can walk to the left from the house .You get to the main road Rákóczi út.Turn to the left pass by the Hotel Astoria down along Kossuth utca to the pedestrian walk Váci utca. You will walk in direction of the big white bridge Erzsébet hid.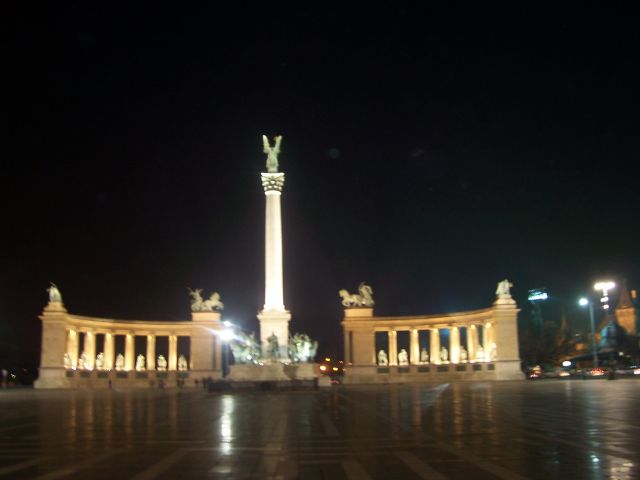 3.City Park / Városliget/ There is the Hero's square view at night, Millinary Monument with the statues of the Hungarian heros,
Museum of Fine Arts /world famous paintings/, Art Gallery, Vajdahunya castle, Chapel of Ják, Hungarian Agricultural Museum Széchenyifürdõ, a large spa with the highest capacity hot springs in Europe.There is the Zoo, Amusement Park, Circus etc.
In the summer there is an artificial lake where you can hire boats.
In the winter there is an artificial ice skating rink.
Just walk left from the house to the main road Rákóczi út,turn to the left. Later cross the Rákóczi út walk to Károly kõrút.Turn to the right along Károly kõrút. You will get to a large square Deák tér.There is the crossing ot the three metro lines. Take metro 1 ( yellow line), the second oldest underground in Europe:

M 1

/yellow line/ or földalatti in Hungarian.
Take it to Hõsök tere /Heroe's square or one stop further to the bath or Amusement Park Széchenyi fürdõ. In one way you should walk, because along the main road Andrássy út there are lots of palaces also the State Opera House. This main road is part of the World Cultural Heritage.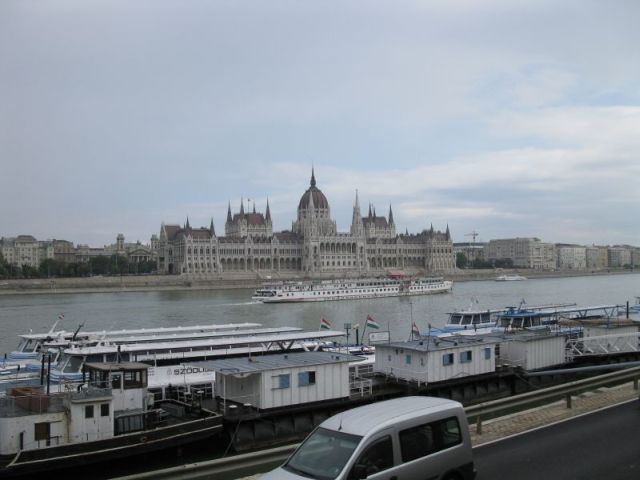 Parliament building on Kossuth tér.It is the second largest one in Europe. Walk left from the house to the main road Rákóczi út, turn to the left and take metro 2 from Astoria station to Kossuth tér ( square). You can also walk down to the pedestrian walk in direction of the big white bridge, then along the Danube river upstream to the North, to the Chain bridge,keep on walking to the large building. If you want to visit the fancy interior of the building, book a tour first at phone 441-4904 or on the spot.
Guided tours available daily from 8 am. to 2 p.m.
Price 2520 ft, for students 1260 ft. 20.04.2010.
www.parlament.hu.


5.Margaret island /Margit-sziget/ 2,5 km long recreation area,open air thermal bath, sport grounds, summer stage, restaurants,cafés,hotels, ruins of the convent of Saint Margaret, the daughter of the king Béla IV. etc.It is actually a large park,where you can walk and rent bicycles etc. and relax. Walk left from the house turn at Rákóczi út to the right to Blaha Lujza tér.Take the tram no 4 or 6. to the Margaret bridge. When you take the tram no.2.,4 or 6 beware the picket-pockets !

6.Flea market/ Használtcikk piac/ XIX. Nagykõrõsi út 156.
Open from Mo-Fr.7-16,Sat:8-15,Sun closed. Walk left from the house turn at Rákóczi út to the right to Blaha Lujza tér.Take the tram no 4 or 6 to Boráros tér. Change for the bus 54. It takes altogether about 60 min.

7. Gellert Hill and the Citadella is a must see thing indeed, but the thing I like the most about it is the view the Hill offers! It's just so high above the city, offering a great overview of the structure of Budapest.
From the Statue of Liberty (in front of the Citadella) you can also see, the Buda side and the southern part of Pest including the Csepel Island.
From the side facing the Danube, all the Pest side, the buildings along the Danubeside, like e.g. the Parliament and also the Buda Castle is visible. Simply amazing! :)
Directions: On the top of Gellert Hill in Buda. Access by bus # 7, 7E or 173E from Rakoczi ut to Moricz Zs. korter.Change for bus #27. Get off at Búsuló Juhász (Citadella) stop and walk uphill. Cars not allowed beyond a certain point. Website
8.Statue Park
After the change of political system the statues were removed from Budapest's streets to this museum. This is the world's only such collection from the period of communist cultural politics. It's the most exciting outdoor museum in Eastern Europe.
Open: every day from 10 A.M. till Sunset (~5 P.M.).
Tickets: 1500 HUF/pers , for students 1000 HUF/pers, free of charge with Budapest Card
How to get there from us ?
By public transport :
Leave our house to the left and on the main road turn to the left to Ferenciek tere ( Metro 3 /blue/)
or turn to the right to Blaha Lujza ter (tram 4 or 6) on the bus No.7 (only red!), No.173 to Etele tér (terminus).
From this square take Volán Bus (yellow) departing from stall number 7. (toward Diosd-Erd). The buses are leaving in every 20 minutes. Get off at the Szoborpark Bus Stop, which is in about 15 minutes.
Tickets are available in the Volánbusz Building.
BKV tickets and Budapest Card is not available on the Volánbusz vehicles.
Direct bus line to Statue Park from downtown every day. The bus leaves 11 a.m. from Deák Square (Deák tér - Metro N°1,2,3), from the bus stop distinguished by the Statue Park-timetable.
Return tickets are 3.950 HUF/pers. (with Budapest Card, it's only 2.450 HUF/pers.), the price includes the ticket for Statue Park as well. Ticket available on the buses.
By car :
leaving from our house at the second corner (Bródy S.utca) turn to the right, first corner again to the right.At the traffic light turn to the left. Drive over Elisabeth bridge (Erzsébet hid = white suspension bridge) in directikon of the M1, M7 motorways/ Vienna, turn off at the Budaörsi function to road number 7. The Statue Park is 7 km away.

Thermal baths, spas
There are about 125 hot springs and 14 thermal baths in Budapest.You can hire bathing suites.
Cap, towel are included in the price.They are usually open from 6 a.m. to 6 p.m.Massage is available in every bath. Most prices from summer 2007.
Gellért-fürdõ It is part of the hotel Gellért at the Buda side of the Szabadság-hid /Liberty bridge/.
Address: 1118 Budapest, Kelenhegyi út 4.
Entrance to the bath is from the hill side. It is supposed to be the most beautiful bath in Europe !
Entrance : 2800 with locker usage and 3100 HUF with cubicle , but you 'lll get refund ,if you leave the bath within 2 hours : 400 HUF, within 3 hours 200 HUF.
therapeutic massage 15 min. 2800 Ft for 30 min. 3800 Ft.Prices are valid in 2008.
Open from 6 a.m. to 7 p.m..
Walk left from your house, turn at the main road to the right Take bus 7black number (number not in the frame) to the hotel Gellért. Second stop after the Danube river..Ask for Gellért.Here you meet the elegance of the old world.

Király Fürdõ Address: II. ker. Fõ utca 84 It is a genuine turkish steam bath.
It has been operating from 1566 !
Open only for adults, for men Tue, Thu, Sat from 9 a.m. to 8 p.m.,
for women: Mon,Wed, Fri from 7 a.m. to 6 p.m.
Sun closed.There is one big pool and 4 small ones with different temperature.
Entrance fee: Ft sauna is included.
Leave your house to the left.Take the metro 2 red line to Battyány tér in direction of Déli 5 stops. From there you can walk on Fő út, or take the bus 86.
Prices for massage see above at Gellért fürdő.

Széchenyi Fürdõ XIV.ker. Városliget, Állatkerti krt. 11. :
City Park It has the highest capacity hot springs in Europe.
Entrance fee with locker usage 2400 Ft. Tickets are for 4 or 5 hours.If you stay less than 2 or 3 hours you get automatically 200-400 HUF refund of your ticekt price at the exit.
If you want to use a cubicle the entrance free is 2800 HUF.
Medical massage costs for 15 min. 2600 HUF and for 30 min. 3800 HUF.
Price from 2008.
After entering the bath, you will get a time and a numer of the masseur /masseuse a the desk. Please go immediatelly to the masseur to confirm the time.
It has a large open air basin for swimmers and some small pools with different water temperature.Open from 6 a.m. to 7 p.m.
At the moment you can visit the bath until 10 p.m. You often see chess players in the water.
Walk left from your house, turn at the main road to the left. At the first small crossing with pedestrian zebra crossing, left you see the post office at Puskin utca, cross the main road. Walk left either on the main road Rákóczi út or in the paralell lane Dohány utca to the left.
If you walk in Dohány utca, you get to the unique building of the Great Synagogue, which is the largest one in Europe.. Turn to the right at Károly kőrút until you arrive to Bajcsy Zsilinszky út.
Underground station

/

Metro 1 = Földalatti

look for the yellow sign /. This is the second oldest underground in Europe after the Tube in London. Take it to the stop of Széchenyi fürdő.

Palatinus open air bath on Margaret-island. Open from 1st May to 15th September.
From 10 a.m. to 6 p.m. but at Sat. and Sun as well as from June 4th to August 28th daily from 9 a.m. to 7 p.m. Entrance fee with use of wardrobe 1500 Ft or with cubicle : 1900 Ft.
Prices from 2006. It has large lawns.
Walk left from your house, turn at the main road to the right.Walk to Erzsébet kőrút. But you can also take the bus 7 red number 1 stop. At Blaha Lujza tér take the tram 4 or 6 in direction of Moszkva tér to the middle of Margit-hid (bridge) .From there 10 min. walk. If you do not want to walk on Margaret island, take bus 26 directly to the bath from Nyugati tér, which is also a tram stop..

Caves in the Buda Hills
If you are longing for relaxing , hiking in the hills, this is your destination in Budapest !
Buda hills are dolomite mountain chain. So there are some caves.

Pálvölgyi cseppkõbarlang II. ker. Szépvölgyi ût 162. Stalagtite cave.
Leave your house to the left.Take the metro 2 red line to Battyány tér in direction of Déli 5 stops.Change for the bus 60 or 86 to Kolossy tér. Take the bus 65 or 65A to the cave. Afterwards you can enjoy the view from the top of Hármashatárhegy and have a meal there.

Szemlõhegyi barlang II.ker. Pusztaszeri ût 35.
Leave your house to the right, turn at the main road to the right.Take the metro 2 red line to Battyány tér in direction of Déli pu. 5 stops.Change for the bus 60 or 86 to Kolossy tér. Take the bus 29 to the cave.
You can make nice trips in the hills. For example this one:
Leave your house to left.Take the metro 2 red line to Battyány tér in direction of Déli to Moszkva tér. Take tram 56 or bus 56 to Budapest Hotel.
Take cogwheel /Fogaskerekű/ from Budapest Hotel to the top. The station is opposite to the round towerlike building. Change for Children's rail way to the outlooking tower Jánoshegy. This is the highest point in Budapest 529 m.Here you can hike a lot.Later take the chair lift called" Libegõ " down .The Chair Lift is the one of the most interesting sights of the hills of Buda. During your trip you can take delight in the beautiful panorama. It takes you up to the top of the Janos Hill from Zugliget.
The track is 1040 metres long and it goes very slow above the gardens of Zugliget around 10-15 minutes! ! Opening Hours: 10-16.
Bus number 158 takes you back from Zugliget to Moszkva tér.

Public transport from VIII. Szentkiralyi utca 5.
Tickets for metro (underground), bus, tram, trolley-bus are available at the metro entrances and bus/tram terminals either from machines or at the ticket offices. You can also get there passes.Prices from January 1st to December 31st, 2011.
Normal ticket valid for bus, tram, trolley-bus, cogwheel, suburban railway (HEV)to the border of Budapest: 320 Ft
- when you buy it on the bus, tram etc. (only on some lines available): 400 Ft
Metro section ticket (up to 3 stops, which is enough from Keleti train station to get to any of our apartments: 260 Ft
10 tickets together (collect tickets), valid as a normal ticket, but only together with the cover: 2050 Ft
One-day ticket, valid for all vehicles to midnight: 1550 Ft
Tourist ticket for 3 days 3850 Ft
(valid from the day of purchase to midnight of the third day.I recommend,because it is handy
One-week-pass: 4600 Ft
Pass for 30 days/ month-pass: 9800 Ft

There are tickets you can change with lines for full length of the lines: 490 Ft
Web site of the Budapest Transport Company in English.



Budapest card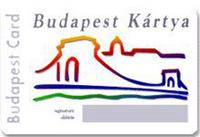 permits unlimited travel on public transport, free or discounted entry to 60 museums and other sights, a half price sightseeing tour as well as discounts in restaurants, spas and other services.
here to download the brochure in PDF format (3.6 MB).

Price for one adult and a child up to 14 ) for 48 hours 6300 Ft
Budapest card for 72 hours: 7500 Ft

Luggage : free of charge you can take 2 pieces up the to following size 40x40x80 cm with you..
If you have more or larger luggage please validate another ticket for the luggage.

Fines paid on spot 6000 Ft, paid in 10 days 12000 Ft.

Hungary Card
Hungary Card - We hope that you will frequently visit the various regions of Hungary with this card in your pocket. By doing so, you will not only have a richer experience, but you will also save a significant amount of money.

How to get from the apartment to:

* Keleti pu. (Eastern Railway Station) at Baross tér.
It is actually the international train station.
If you are there, do not miss the corridor leading to the fescos
in the Lotz Hall.
Walk from the house to the left to the main road Rakoczi ut. Turn there to the right. 60 m from the 'ABC' supermarket there is a bus stop: line '7' or '7A'. Take it for 3 stops to the Keleti pu. You can also take the metro line '2' from the 'Astoria' station - go to the left from the house, turn to the left. At the glass office building there are the stairs to the metro entrance. The metro runs from about 5.10 a.m.to 11.15 p.m.

* Nyugati pu. (Western Railway Station) at Nyugati ter (trains to Debrecen, Szeged, Szob).Walk left from the house to the main road, then turn left.Walk to Ferenciek tere for about 7 minutes. Take then the metro line '3'

M 3

(blueline) for 3 stops.

* Déli pu. (Southern Railway Station) (trains to Balaton, Pecs, Westhungary). Take the metro line '2' from the 'Astoria' station to the end stop - walk left from the house and then turn left at the main road Rákóczi út. Walk to the glass office building, then downstairs.

* Ferihegy Airport Bus 100E !!! Deák tér-Astoria-Ferihegy!!
2.a and 2.b Airport buses run every half an hour from Erzsébet tér to the airports 2.a and 2.b. They are just beside each other.
Ferihegy 1(the old airport) is used only by low cost airlines (German Wings etc.).It is on the way to the modern airport Ferihegy 2/a and 2/b.
By public transportation you can get taking the metro 2 from Astoria to Deak ter.Change for metro 3 to the end/Kobanya -Kispest. From there you can take the bus number 200.

Night buses
From midnight to the start of the regular buses you can take at Rakoczi ut line '78E'.At Museum korut-Karoly korut - '14E' or '50E'. They run every 20-30 minutes.
Taxi prices are varying from minute to minute, from cab to cab. It is good if you order it before with a fix price.
For example:'6x6 Volan Taxi' (2 666 666) or 'Fotaxi' (2222222 or 06-80-222 222,whichis a free of charge call).

Intenet cafes in the neighbourhood of Szentkiralyi utca 5.
The biggest one is in the book store Libri on the first floor. Open from 10 a.m. to 6 p.m. Sun closed !
The house is on the corner of the main road Rakoczi ut and small lane Sip utca. Leave Szentkiralyi utca 5 to the left to main road Rakoczi ut. Turn at the Hungarian spirit / palinka/ shop to the left . At the next pedestrian crossing cross the main road. It is on the right corner. Palinka is the Hungarian national hard drink made out of fruits/ plum, apricot, pear, etc./like whisky in Scotland.

Another one is in our street just before the square Mikszath on the left side in the basement. Open from Mo to Fr. from 8 a.m. to 10 p.m. at weekend fom 9 a.m. to 9 p.m. Fee 200 HUF per an hour.

Discos :
Közgáz Pince Klub IX, Ker, Fővám tér 8.
The club is open from Mo to Sat.from 10 p.m. to 5 a.m. Disco is on saturdays.
Right from the house at the second lane to the right / Bródy Sándorutca /,at the main road / Múzeum kúrút / to the left.

Arató disco: V. Váci utca 33. Several halls for different programs. Open from Tue. to Sat. between 9.30 p.m. to 4 a.m.
Left from the building at the main road Rákóczi út to the left to Ferencziek ter.

Universum Music Cafè V.Váci utca 34, open daily from 10 p/m/ to 4 a.m. Opposite the Arató disco.

SOTE Klub VIII. Nagyvárad tér 4. Open only Sat.from 10 p.m 4,30 a.m.
Left from your hotel to the main road, then to the left, keep on walking on the main road Rákóczi út to Ferencziek ter. From there take metro M 3 /blue line/ in direction Kőbánya-Kispest to Nagyvárad tér.

Stage Pub
V. Aranykéz utca 5 Open from Mo, to Fri. from 11 p.m.to 2 p.m.Sun. from 7 p.m. to 2 p.m.

Jazz clubs

New Orleans Klub and Restaurant at 1066 Budapest, Lovag utca 5.
The same way you can walk, but 15 min. longer walk. First one block further from Alkatraz on Rákóczi út, turn at Klauzál utca to the left and keep on walking straight ahead.
The street name will change to Csányi then to Nagymező. Passing by some theaters, you will reach V. ker. Lovag utca.

A38 Jazztaurant at a boat on the Danube river.

Ráday Klub at Budapest, IX. ker. Ráday u. 43-45.
Walk right from our bulding, turn at the second corner to the right in Bródy Sándor utca . At the main road /Múzeum kőrút turn to the left. Walk by the National Museum. Go downstairs in the walk under and turn there to the left and look for the stairs leading up to Raday utca.

Gödör Klub V. Erzsébet tér
Take metro 2 from Astoria one stop to Deák tér.

City Centre Apartments Budapest S.R.L.
- hostel con habitaciones y apartamentos en el centro de Budapest -
desea que se divierta mucho en Budapest

Pricipal página Utile informacion & links en ingles+19 idiomas

©Copyright 2002-2018 - City Centre Apartments kkt. Aparthotel,hostel con habitaciones,alojamiento en Budapest